by PacoDG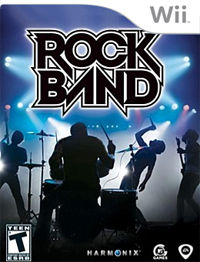 The Wii version of Rock Band has finally been confirmed as well as given a release date of June 22nd. The game will feature five more tracks than the current Rock Band, however the fact that Wii does not currently have downloadable content as of now should be enough to persuade buyers into rethinking their purchase or at least hold it off until the inclusion of this feature. Those five unannounced tracks have not been specified and I would not be surprised if they are songs already offered as DLC for the PS3 and Xbox 360 version of the game.
In an interesting twist, the Rock Band guitar will be a stand alone controller and not using the Wiimote to be plugged in it to work. Having played the Wii version of Guitar Hero III for almost a full day, the small details like hearing the guitar strings pluck when hitting a wrong note and being wireless right off the bat seemed like something EA/Harmonix would take advantage of on the Wii.
On top of the lack of downloadable content, other disadvantages include a lack of online play. The game is being ported by the same group that ported the Playstation 2 version of the game, so one can easily speculate that the game will also feature gimped versions of the world tour mode and character customizations.
I have no doubts that Rock Band on Wii will sell well, but had this version come along at the same time the 360 and PS3 versions of the game were out, I think it would have been a million times easier to look past the flaws that will come with the Wii edition and gobble this baby up (keeping in mind it would have been holiday season as well). I wish I knew who to blame for this lack of DLC and online play, but I hate EA way more than Nintendo, so I'll say EA for now (as Smash Bros does have online play, so at the least Rock Band should of had that).
Full press release after the break: