by BB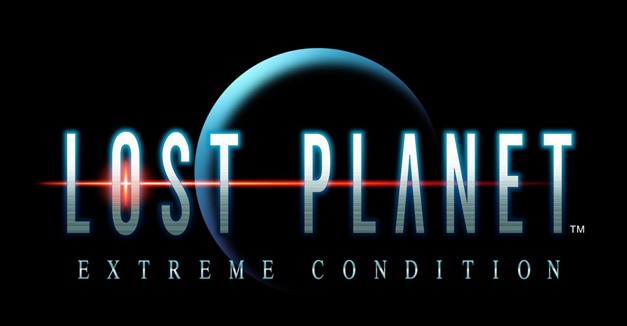 Pros: Challenging, epic boss battles; non-stop action; Graphics are amazing; addictive multiplayer action will keep you coming back for more once your done with the single-player
Cons: Single-player can be completed in about 7 or 8 hours; some boss battles really require a lot of strategy and a lot of trial/error
Story: Lost Planet is Capcom's latest sub-zero weather inspired third-person shooter for the Xbox 360. The game starts off on a remote planet known as E.D.N. III which the humans are attempting to colonize. At first, the colonization goes according to plan, but then the humans run into a problem. Mainly the huge bug-like alien creatures known as the Akrid. The humans battled the Akrid, and in battling the Akrid, the humans realized the insects had a substance in them that can be used as a thermal energy source, which in turn can be used as a source of heat and energy.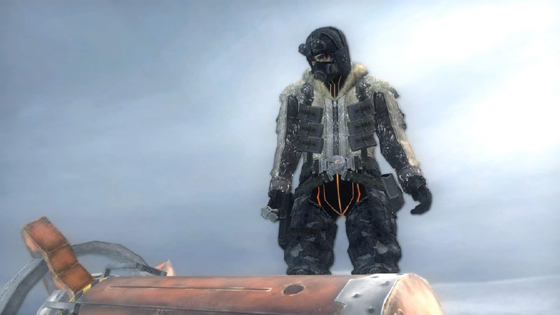 You play the role of Wayne, a snow pirate who was discovered under the snow and ice and also has amnesia of the events prior to being discovered. He does remember one thing though, the fact that his father is dead and was killed by a huge Akrid known as Green Eye. With the help of his newfound friends, he sets off to hunt Green Eye and avenge his father's death.
Gameplay: The controls for Lost Planet take a little getting used to, but once you do, you won't have to think twice on any of the moves. The one thing you'll notice when playing this game is your character moves kind of slow compared to most games. Especially the shooting reticule. In most shooters, when you move the right-analog stick, your character moves along with the shooting reticule. In this game though, the shooting reticule is the main focus which may turn off most shooter fans. The problem I have with that is the reticule moves kind of slow, but Lost Planet helps compensate by highlighting any enemy that's within a certain range so it's easier to shoot at them. Once you get your shooting reticule to a certain point, that is when your character will begin to turn. One thing that does helps alleviate this are the RB and LB buttons. When pushed, your character will do an immediate 90º turn in either the left (LB) or right (RB) direction.
The addition of a grappling hook really helps in moving Wayne around as well. Pressing "X" will deploy your grappling hook, and if you grapple onto something, you'll be pulled towards it at an increased speed. The way you would know if something is in range would be by the targeting reticule. When your in range, the reticule will turn green. Also, if you make a wrong step and fall of a mountain, your grappling hook will automatically engage and save you, but don't rely on it too much because it won't save you every time.
The weapons in the game vary, but there really isn't much here we haven't seen before. There's the usual machine gun, shotgun, rifle, and grenades. But Lost Planet also introduces some new weapons. A gum grenade acts as a grenade, but it sticks to whatever it lands on. Disc grenades act kind of like a frisbee of death. As soon as it hits a person, it sticks to them until…well, "BOOM!".
One thing that makes this game unique is the involvement of the VS. VS stands for Vital Suit and they're these huge mechs that also vary. Some VS have great jumping ability, some are able to drill, and some can transform between being a VS and snow speeder. The addition of multiple types of VS really make you think which VS would be right for which situation. Another cool thing about the VS is the fact that you interchange the weapons that are mounted on the VS. So you can have one arm as a shotgun, the other with a laser, or maybe even attach both arms with rocket launchers to cause havoc wherever you go.
The inclusion of the necessity of collecting thermal energy in order to stay alive helps keeps the pace fast. Each time you are injured, the thermal energy that was collected will go towards healing yourself. Also, each time you use a VS, it will use up precious thermal energy. The moment that you run out of thermal energy, you are immediately ejected from your VS. As stated previously, the way to get thermal energy can be from killing Akrid, but you can also get a boost of thermal energy from activating posts that you run into during missions. These posts not only serve as a way of getting thermal energy, but it also shows you the direction you should be heading in to get to the next post, and ultimately the end of the mission.
Graphics: The graphics for this game are simply amazing. The snow reacts and sounds amazing. Each and every nut and bolt is visible in all of the VS. The explosions and smoke in this game are the best I've seen in any game so far. If you still didn't get a high def television set after getting Gears of War, this would be another great reason to save up for one.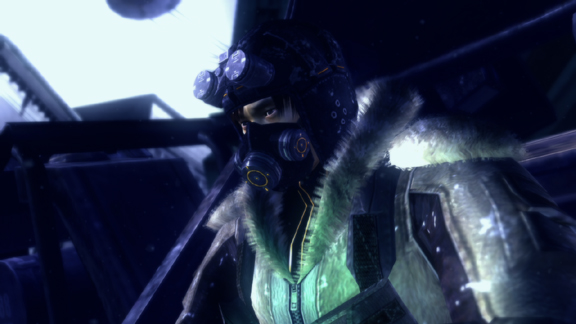 Multi-player: The multi-player mode is addictive and enjoyable each and every time you log in. Like most Xbox 360 games, this one carries ranked and player matches, with all of the achievements unlockable through ranked matches. Every time you play ranked matches, all of the points that are achieved through either killing your enemies or capturing a post go towards your overall multi-player points. As you continue to play, you will increase in levels. The higher the levels, the more additional features are unlocked such as a new type of clothing pattern for your character or a new character altogether.
The game types come in four different flavors: Elimination, Team Elimination, Post Grab, and Fugitive. Elimination and Team Elimination are the usual Deathmatch/Team Deathmatch rules. Post Grab involves two teams frantically working towards activating all six posts located in the map. The game ends in one of two ways: If one team controls all of the posts or if time runs out, then the team with the majority of the captured posts wins. In fugitive, the host of the game is the "fugitive" and the rest of the players hunt him down.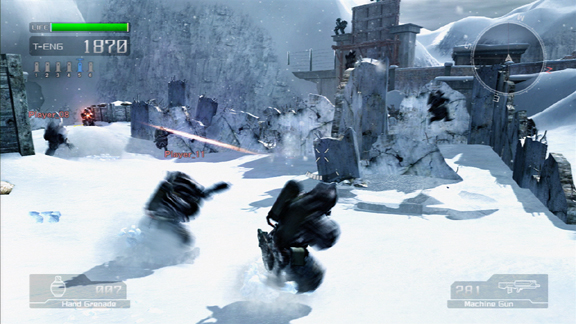 Conclusion: So you read through my review and now you want to know what I personally think about Lost Planet. Well, Lost Planet is either a hit or miss, depending on who you are. The story really is non-sense, you can play through the game without really paying attention to the story. Most Capcom adventure games aren't known for their in-depth story. Even though the story is nothing special, the game is fun and challenging on Normal mode. The boss battles are even more challenging and you get a huge sense of satisfaction when you take down an enemy that's probably the size of a metropolitan city.
What I would recommend is to take a look at the single-player and multi-player demos that are available on the Xbox Live Marketplace. If you enjoy them, then I'd recommend you buy the game. If you don't, then I'd say pass on the game, because if you can't handle 10-15 minutes of how the game mechanics feel, you probably aren't going to want to play it for a couple of hours. But, make sure you at least try this game, because you'd be missing out on an truly unique experience if you didn't.

Microsoft, Xbox 360, Lost Planet, Review