by PacoDG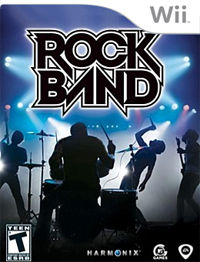 The Wii version of Rock Band has finally been confirmed as well as given a release date of June 22nd. The game will feature five more tracks than the current Rock Band, however the fact that Wii does not currently have downloadable content as of now should be enough to persuade buyers into rethinking their purchase or at least hold it off until the inclusion of this feature. Those five unannounced tracks have not been specified and I would not be surprised if they are songs already offered as DLC for the PS3 and Xbox 360 version of the game.
In an interesting twist, the Rock Band guitar will be a stand alone controller and not using the Wiimote to be plugged in it to work. Having played the Wii version of Guitar Hero III for almost a full day, the small details like hearing the guitar strings pluck when hitting a wrong note and being wireless right off the bat seemed like something EA/Harmonix would take advantage of on the Wii.
On top of the lack of downloadable content, other disadvantages include a lack of online play. The game is being ported by the same group that ported the Playstation 2 version of the game, so one can easily speculate that the game will also feature gimped versions of the world tour mode and character customizations.
I have no doubts that Rock Band on Wii will sell well, but had this version come along at the same time the 360 and PS3 versions of the game were out, I think it would have been a million times easier to look past the flaws that will come with the Wii edition and gobble this baby up (keeping in mind it would have been holiday season as well). I wish I knew who to blame for this lack of DLC and online play, but I hate EA way more than Nintendo, so I'll say EA for now (as Smash Bros does have online play, so at the least Rock Band should of had that).
Full press release after the break:
The number one selling game in February 2008 is coming to Wii!

Cambridge, MA – March 24, 2007- Harmonix, the leading developer of music-based games, and MTV Games, a division of MTV Networks, which is a division of Viacom (NYSE: VIA, VIA.B), along with distribution partner Electronic Arts, Inc. (NASDAQ: ERTS), today announced plans to release the award-winning music video game Rock Band on the Wii™ home video game system from Nintendo in the U.S. and Canada on June 22, 2008 for the suggested retail price of $169.99.

Rock Band for Wii will be released as a Special Edition bundle including the software, drums, microphone and a wireless guitar. Stand alone instruments will also be available on June 22nd for people who want to build their band one instrument at a time or want to play the drum versus drum game mode. The game will feature 63 songs including five bonus songs for Wii gamers to enjoy.

"The Wii's success among casual and core gamers of all ages makes it an ideal match for the cross-generational appeal of the music featured in Rock Band," says Bob Picunko, Vice President of Electronic Games and Interactive Products, MTV

"The social interaction and addictive nature of the Rock Band experience is a perfect fit for the Wii and will undoubtedly be fun for the entire family," says Steve Singer, licensing VP from Nintendo.

Rock Band is an all-new platform for music fans and gamers to interact with music like never before. The game challenges players to put together a band and tour for fame and fortune – all while learning to master lead/bass guitar, drums and vocals. Featuring the most master recordings of any music game ever by the world's biggest rock artists, Rock Band includes tracks that span every genre of rock ranging from alternative and classic rock to heavy metal and punk. Rock Band has garnered over 40 awards this year including Game Critics Award: Best of Show E3 2007 and three awards at The 11th Annual Interactive Achievement Awards including Outstanding Innovation in Gaming, Family Game of the Year, and Outstanding Achievement in Soundtrack.

Rock Band is rated "T" for Teen (lyrics, mild suggestive themes) by the ESRB.

Rock Band is currently available on the Xbox 360™ video game and entertainment system from Microsoft®, the PLAYSTATION®3 computer entertainment system, and on the PLAYSTATION®2 computer entertainment system.

EA is the exclusive distribution and marketing partner for Rock Band.

For more information on Rock Band and Harmonix Music Systems please visit www.rockband.com and www.harmonixmusic.com.

#####

About MTV Networks
MTV Networks, a unit of Viacom (NYSE: VIA, VIA.B), is one of the world's leading creators of programming and content across all media platforms. MTV Networks, with more than 150 channels worldwide, owns and operates the following television programming services - MTV: MUSIC TELEVISION, MTV2, VH1, mtvU, NICKELODEON, NICK at NITE, COMEDY CENTRAL, TV LAND, SPIKE TV, CMT, NOGGIN/THE N, VH1 CLASSIC, MTVN INTERNATIONAL and THE DIGITAL SUITE FROM MTV NETWORKS, a package of 13 digital services, all of these networks trademarks of MTV Networks. MTV Networks connects with its audiences through its robust consumer products businesses and its more than 300 interactive properties worldwide, including online, broadband, wireless and interactive television services and also has licensing agreements, joint ventures, and syndication deals whereby all of its programming services can be seen worldwide.

About MTV Games
MTV Games is dedicated to creating, marketing and publishing high-quality, innovative interactive products that are relevant to the MTV audience and complement the core values of the MTV Networks brands.

About Harmonix Music Systems, Inc
Harmonix Music Systems, Inc., based in Cambridge, MA, and established in 1995, is the leading developer of groundbreaking music-oriented videogames. Harmonix was founded by Alex Rigopulos and Eran Egozy, who formed the company to invent new ways for non-musicians to experience the unique joy that comes from making music and have pioneered music and rhythm gaming in the US. For more information please visit: www.harmonixmusic.com

About Electronic Arts
Electronic Arts Inc. (EA), headquartered in Redwood City, California, is the world's leading interactive entertainment software company. Founded in 1982, the company develops, publishes, and distributes interactive software worldwide for video game systems, personal computers, cellular handsets and the Internet. Electronic Arts markets its products under four brand names: EA SPORTS™, EA™, EA SPORTS BIG™ and POGO™. In fiscal 2007, EA posted revenue of $3.09 billion and had 24 titles that sold more than one million copies. EA's homepage and online game site is www.ea.com. More information about EA's products and full text of press releases can be found on the Internet at http://info.ea.com.

EA, EA SPORTS, EA SPORTS BIG, and POGO are trademarks or registered trademarks of Electronic Arts Inc. in the U.S. and/or other countries.

© 2007 Harmonix Music Systems, Inc. All Rights Reserved. Harmonix, Rock Band and all related titles and logos are trademarks of Harmonix Music Systems, Inc., a MTV Networks company. Rock Band developed by Harmonix Music Systems, Inc. MTV: Music Television, MTV Games and all related titles and logos are trademarks of MTV Networks, a division of Viacom International Inc All other marks are the property of their respective owners.

EA, EA SPORTS, EA SPORTS BIG and POGO are trademarks or registered trademarks of Electronic Arts Inc. in the U.S. and/or other countries. "PlayStation" and "PLAYSTATION" are registered trademarks of Sony Computer Entertainment Inc. Microsoft, Xbox and Xbox 360 are trademarks of the Microsoft group of companies.

Wii and the Wii logo are trademarks of Nintendo. © 2006 Nintendo.
—


Rock Band, Nintendo Wii, Guitar Hero, Release Date