by JW
Here I am, sitting in the computer lab at my college with an hour and a half before my next class. Since I have nothing better to do, and I am also a cheap, dirty $2 whore for website traffic, I figured I'd talk a bit about
Halo 3
's online multiplayer. "Why?" you ask? Well, because I can and odds are everyone under the sun owns it by now.
In short: It's awesome. That's really it. I could just put up a stupid image of Master Chief quoting Lil John and call it a day, but no. I fear that I have to vent a bit. You see, through my time playing Halo 3, I've come across quite a few groups of people. From the creepy old men who tried to talk about sex acts with his ex until EVERYONE muted him, to ten year old children who have mouths more foul than Pig-Pen's underwear drawer.
Now, there are, literally, hundreds of different categories for which to lump gamers into. This list deals exclusively with those that, I feel, taint the game for those of us who are on to have a good time. Those groups of players who, no matter what, you just can't stand.
Douchebags.
#1.) Swordsmen

The first group of people are those who use the swords… not all of you, don't get nervous. Hell, we ALL use the swords. Even I use the sword from time to time. "Swordsmen", however, are classified as those people who use SOLELY the sword, clutching it so tightly you'd think it gave free handjobs. The worst of these punks are those who hang around near the sword's spawn point, camping like a little pansy ass until it spawns. 9 out of 10 times they can be found hiding in the corner or behind a ramp with either a rocket launcher or Spartan Laser. This leads me into group two…
#2.) Rocket Whores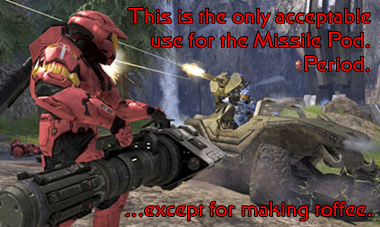 This is a group that has been part of online gaming since the first Quake. If you aren't yet sure of who and what a rocket whore is, I'll sum it up for you: They use rockets. Only rockets. All the time.
Halo 3 (and, for that matter, Halo 2) deserves special mention, however. For you see, the rocket whores in Halo 3 are of a special breed, known as "intercourseius remediali", or in lamens terms, "fucking retards". While you can certainly make the argument that all rocket whores are to a degree dipshits, the ones in Halo 3 are unlike no others. Never before have I been shot by a rocket whore at point blank range. Of course, at point blank range the blast kills both you and said whore o' da rocket, thus negating any progress in the game.
Congratulations, fuckstick — you've failed at fragging. (Missile Pods count as well, though Brute Shots do not)
#3.) Laser Lovers

Kind of like the Rocket Whores, only… I don't want to say they're even more absurd than the whores of the rocket variety, so let's just consider them "different but equal". These are the ones who'll take the Spartan Laser and try to use it as a standard weapon… seeminly forgetting that it takes a good five or six seconds to charge and fire the damn thing. In that time, if someone is near by, you can very well get your ass kicked eight ways from Tuesday. While they've never really pissed me off, they're just… well, stupid, for a lack of better terminology.
#4.) Children

Mom, dad, come here for a minute. Just you and me, ok? Is the kid gone? …good. Grab your case for Halo 3. I'll wait.
…the jewel case. Don't try to be a show-off and present your Spartan helmet. I have one, too. It's not that impressive… ok, you have the jewel case? Good. Now, look in the lower lefthand corner for a second. You see that? That giant M? Guess what that means.
IT MEANS IT'S M FOR MATURE! On the back of the damn box, lower right-hand corner, it says and I quote:
Mature 17+
(Giant M) Blood and Gore
Mild Language
Violence
ESRB CONTENT RATING www.esrb.org
Now, to recap: Rating on the front of the box, rating on the back of the box accompanied by brief explanations of why the rating is what it is. So, when your kid snaps and goes on a murderous rampage through his high school because the cheerleader turns him down for the "Enchantment Under the Sea" dance because she had a date with that new, hip Calvin Klein kid, maybe you should look in the mirror and blame yourselves for not stepping in and being a damn PARENT!
Of course, considering most of the children I come across in that game, I wouldn't doubt that these parents have failed in every facet of life. I shouldn't be out-cursed by a ten-year-old.
#5.) Campers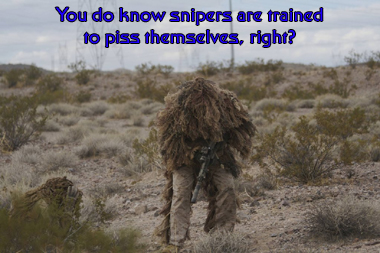 Much like #2, #5 on this list can be found in just about every FPS title in existance. Campers, as I'm sure we all know, are those who stand perfectly still in a single spot, waiting for someone to come across their paths before engaging in combat. Some (mostly campers, themselves) consider this a "viable tactic", but I just find it to be laziness on a level unmatched by normal human beings. If you can't even get the will power to move your damn character, then… well, that's your malfunction. Also, how do you people have fun? I would imagine that sitting there with your thump shoved firmly up your ass, sucking on your Pepsi and munching Fritos while you wait for someone to round a corner must be boring as hell.
However, when you kill a camper, it is one of the most rewarding feelings on this Earth. It should be pointed out that snipers aren't classified as campers due to the nature of the weapon, but the sniper rifle does lead me into the next group of people…
#6.) Hip-Slingin' Snipers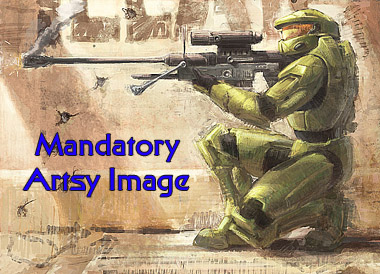 This one is just bizarre. There are some people who will go through hell and high water to get their hands on the sniper rifle. Once they get the weapon, rather than going to a high spot and picking people off as, say, a
sniper
would, they go all gunslinger with the damn thing. I don't have any real complaints about it, and it doesn't really take away from the game experience… it's just odd.
Let's move on.
#7.) Achievement Whores
Look, people. When a developer puts an achievement into the game, they do so expecting you to earn these feats. So when you get into a lobby and ask "hey, do you want to do achievements?", you're inadvertantly undermining the efforts of the development team who went through the trouble of creating these achievements. Also, you support terrorism and the drowning of kitties in burlap sacks.
I normally don't care about whether or not people cheat to get achievements in online games. Usually, when I hear people talking about it, I exit out of that games lobby and find a new game. Unfortulately, with Halo 3, you can't do that. Once you're in a game, the only way to exit out of it (without penalty) is to exit all the way back to your damn dashboard. If only Bungie would have included the option of exiting out of a game before it began (I.E. USE THE B BUTTON!) this wouldn't even be mentioned. But alas, Bungie wanted to force feed us matchmaking, so now we get stuck with this crap. Fantabulous.
#8.) Deserters

You people should be taken out back and castrated with hot curling irons. You, those people who exit out of a game the moment it begins simply for shits and giggles. I'm not going to name any names of people who do this, because frankly I'm above that… thankfully, A1PRIMA and dannte1971 are Xbox LIVE handles, and I have no problem pointing out to all the world that you two are schmucks.
There is no excuse for this. There simply isn't. If you get online, and get into a match, just shut up and play. Exiting out of the map (especially in team games) only hurts your ranking, and hurts the team as a whole… of course, if you exited out, you didn't care about the team in the first place. You only go about pissing off people… like writers of fairly successful video game websites…
#9.) Heavy Breathers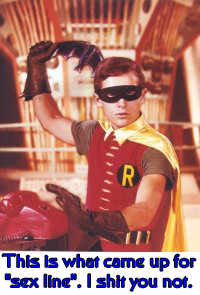 Pull the microphone away from your mouths! For Christ sake, some times I get on Halo 3 and it sounds like I'm on a "party line". This is easily the most annoying of the groups, because they are easily the most distracting. Every two seconds you hear the heavy breathing sounds of someone who, if you heard said breathing at random, would think they just ran the Boston Marathon. I would be able to at least partially forgive it if, you know, they actually talked during the game. But 99.99478675309% of the time, they don't. They just breathe… and breathe… and breathe…
There you go. The comprehensive list of people who are ruining Halo 3 for the rest of us. Now I'm sure this will piss off a lot of Sword-clutching, camping rocket whore ten-year-olds with asthma out there, but you know what? You're wrong. Period.

Microsoft, Xbox 360, Xbox LIVE, Bungie, Halo 3