Monday, April 30th, 2007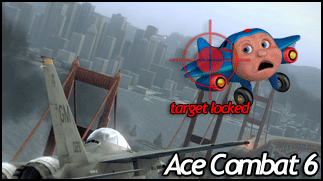 Namco made headlines with the announcement that the widely popular Ace Combat series was coming to Xbox 360. They are making headlines again with details regarding the wide array gameplay options that will be available in Ace Combat 6.
The single player campaign has been completely upgraded, with Namco's new "Dynamic Mission System". This system allows for campaign skirmishes on grander scale than ever before, with objectives that evolve based on your actions. For instance, your mission is to escort a plane to safe air space. On the way, the plane gets blown to bits by enemy aircraft. Instead of the mission abruptly ending, the objectives and future missions will change based on your failures and successes.
Ace Combat 6 is also trying to broaden the game's player base. With controls that can be changed from "arcade-style" to "simulation", Ace Combat 6 promises to satisfy players regardless of their experience.
The online component includes deathmatch, team deathmatch, and co-operative mission play. These are all enhanced by updated leaderboards and future downloadable content.
I for one am very excited. Ace Combat has needed a quality online component for a long time, and I believe it will add a great deal to the series. Ace Combat 6 is scheduled to be released on 11/13/07. I'll see you all online, just look for the guy flying upside down screaming Top Gun quotes into his microphone.