by Paul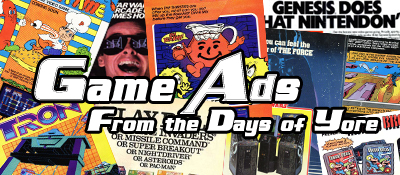 This week's ad serves as a delayed tribute to the late co-creator Gary Gygax. Yeah it really has nothing to do with the guy except for the fact that it's a television commercial for the Advanced Dungeons and Dragons game found on the Intellevision, but without him there would have been no game based on the popular RPG to begin with. Or something, just go with me on this please?
I have very fond memories of the AD&D Intellivision game. I used to play it with my cousin for hours. The horrid, nearly useless Intellivision controllers made the game nearly impossible to play, but we had hours of fun running around narrow passages, shooting at things that kind of looked like monsters with our bow and arrows, and having no clue what we were supposed to be doing.
You wouldn't think that the game was any fun judging by this commercial, though. I couldn't think of a worse way to try to sell this game. Obviously, whoever made the ad thought that only tiny children were interested in video games and a.) didn't know how to hook up the video game console to their television and b.) didn't know that you have to buy the game separately.
You might recognize the boy in the ad. He's Henry Thomas of E.T. fame. Henry appeared in a few Intellevision commercials, each almost exactly like this one. The little girl makes a little more sense in the ad if you figure that she's playing the Drew Barrymore character from E.T.