by Dave Parrack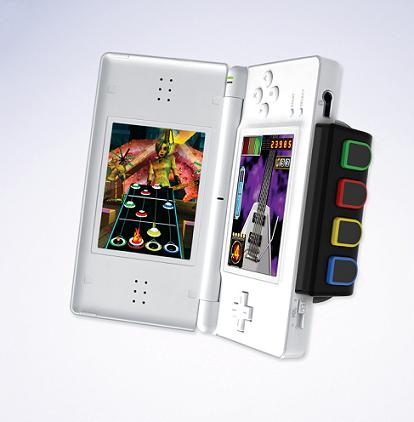 A couple of weeks ago, rumours were abound of a version of Guitar Hero being made for the Nintendo DS. They came about after Australia's Office of Film & Literature Classification, gave Guitar Hero: On Tour a 'G' rating on March 4th, effectively letting the cat out of the bag.
Now, we have proof of the existence of the game after Activision officially announced the game through a press release.
The game is scheduled for release this summer, and will work by way of a new peripheral, called the Guitar Hero Guitar Grip, which slips over the back of your DS (as seen in the picture above) to turn it in to an electric guitar, as well as top selling portable games machine.
The game will also come with a Guitar Hero pick stylus enabling DS owners to strum their way to fame and fortune, at least in terms of a Guitar Hero career.
Rather than port one of the existing Guitar Hero games over to the DS, the game, and control system has been built from bottom up, and should offer a unique experience, making this an essential purchase for fans of the series and novices alike.
Dusty Welch, head of publishing for Activision/RedOctane said:
"The Guitar Hero Guitar Grip redefines how games can be played on handheld systems and the integration of the microphone and touch screen gameplay on the DS, further illustrates Guitar Hero's leadership in delivering the most unique and creative quality hardware and software on the market."
While Karthik Bala, CEO of Vicarious Visions said:
"We're designing Guitar Hero: On Tour from the ground up to take full advantage of the DS platform by integrating signature gameplay with fresh new content and DS specific features. We've taken all of our learnings on the DS platform to date and pushed it to the limits to create a truly innovative Guitar Hero experience."
The basic game will be the same, although there are a couple of new features to utilise the hardware: Players must blow into the DS microphone to extinguish a pyrotechnics effects gone wrong, or use the touch screen to autograph a crazed fan's shirt in the middle of their set.
I do have some worries about the control method though, as it looks awkward from where I'm sitting. The experience on home consoles is so satisfying that I hope beyond all hope that this isn't a huge disappointment.