by JW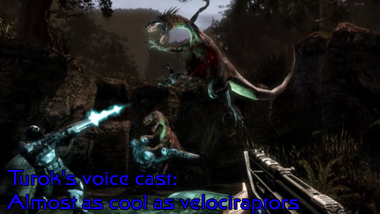 1PStart has gushed a bit about how absolutely awesome the new Turok game is looking. From the visuals to the story reboot, everything about the new Turok, simply entitled Turok, is looking sweet. Now, it appears, it will sound sweet as well, as many hollywood actors have signed on to do voiceovers for Turok.
Joseph Turok - Gregory Norman Cruz (Saving Grace)
"Cowboy" - Timothy Olyphant (Live Free or Die Hard)
"Slade" - Ron Perlman (Hellboy)
"Shepard" - Donnie Wahlberg (New Kids on the Block)
"Logan" - William Fichtner (Prison Break, GTA: San Andreas)
"Cole" - Mark Rolston (Enterprise)
"Jericho" - Christopher Judge (Stargate SG-1)
"Gonzalez" - Lombardo Boyar (Happy Feet)
"Reese" - Gideon Emery (Passions)
"Parker" - Josh Gomez (Chuck)
"Foster" - Jon Curry
"Carter" - Jason Harris (Chicken Little)
"Henderson" - Steve Van Wormer (Bubble Boy)
Of course, predominant bad guy Powers Boothe will play Roland Kane, the game's villian, and former mentor to Joseph Turok. Kane's right-hand man, Grimes, will be voiced by Sean Donnellan.
As if there wasn't enough to get all giddy over, now we find out that Turok is set to have one of the best VO casts in recent memory. Good Lord.

Turok, PlayStation 3, Xbox 360, Powers Boothe, Ron Perlman, Tim Olyphant, Donnie Walhberg, William Fichtner, Christopher Judge