by JW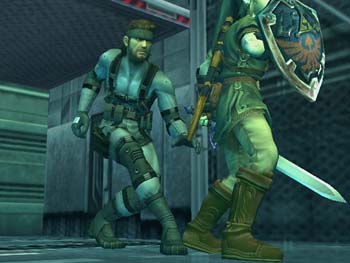 David Hayter is cool. In addition to voicing the ever badass Solid Snake, Hayter has written the screenplay for the first X-Men movie, and co-written screenplays for X2: X-Men United and the Scorpion King. Oh, and he's Guyver, which is also awesome beyond comprehension. But, in the gaming world, Hayter is known almost exclusively for his role of Solid Snake in the Metal Gear Solid games.
On the YouTube page for his Metal Gear Solid 20th Anniversary video, Hayter has confirmed to a fan that he is indeed voicing Solid Snake in the next Super Smash Bros. title, Super Smash Bros. Brawl.
In a post by YouTuber "ArchdukeChocula01″, the question was asked if Hayter would be reprising his role as Snake in SSBB. Hayter replied:
Archduke Chocula,

I am indeed voicing Snake in "Smash Bros." I've recorded it already, and I believe that fans of both games are going to be extremely happy. It's very cool. That's all I can say.

DH
Now, I don't have to point out how infinitely awesome this is. Not only will I finally get to see Solid Snake cave Link's face in, but he'll have his true voice for it, too.
[YouTube]
[Kotaku]
[Switzerland]

Nintendo, Wii, David Hayter, Solid Snake, Super Smash Bros Brawl, Metal Gear Solid