by JW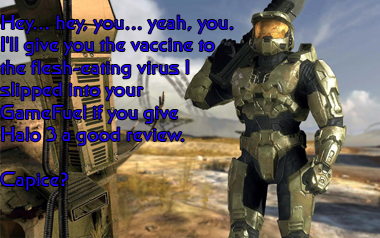 On the latest episode of "Dean and Nooch", San Jose Mercury News writer Dean Takahashi had some choice news regarding a $800 swag bag he received, calling the swag bag a "bribe" and saying he'll send it back in it's entirety.
In the bag that Takahashi received was:
Halo 3 Legendary Edition
Halo 3 Xbox 360
Two Halo 3 Xbox 360 controllers
First Aid Kid
MRE
Halo 3 duffel
Watch the video after the break.
A bribe? Honestly? It just sounds to me like Microsoft went the extra mile in their swag bag. All big publishers do it with the game they've designated the "Killer App" for the year. GTA IV will do it. Killzone 2 will do it. Mass Effect will do it.
For it to have been a bribe, Microsoft would have had to come out and say "Look, here's some free stuff. Now, give us a good score". That's not what happened here. Microsoft just went the extra mile in their press swag.
While I do take a bit of issue with calling this a bribe, I take more issue with what Takahashi is doing with the bag. Sending it back? Give me a break. Do something cool with it. Joystiq is giving theirs away, and the head honcho at Gizmodo threw his off a balcony. If you don't want it, fine. But don't leave the gamers out in the cold while you send it back to Microsoft.
They already own that stuff. I don't. *wink wink nudge nudge*

Microsoft, Xbox 360, Bungie, Halo 3, bribery