by JW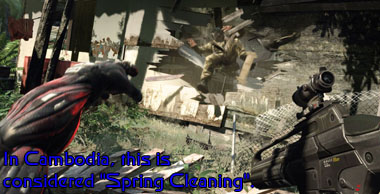 Crysis fans rejoice! The single-player demo for Crysis has been delayed until October 26th! …ok, so that isn't what you should be rejoicing about. That actually sucks pretty bad. BUT, it was announced by Cevat Yerli, Crytek's CEO, that the demo will include the CryEngine 2 - Sandbox 2 game editor!
What that means is that you'll be able to play around with some of the editing/modding tools weeks in advance of the game's November 16th release. Considering we have to usually take the good with the bad, I think the good (in the long run) will far outweigh the bad.
…of course, when Crysis actually comes out, who'll care?
Hi everyone,

We have some news to announce.

First, I am sorry for the bad news - the Crysis single player demo will now be available everywhere on October 26th, 2007.

We are taking some extra time to make sure you that you have an amazing experience but also we did not want to risk the release date of Crysis at this stage. To get the game into your hands by November the 16th, we had to make this call.

Now the good news - the big surprise. The SP demo will be released with our CryEngine 2 - Sandbox 2 game editor, giving the community the opportunity to get familiar with the vast amount of tools they will have at their disposal four weeks before we ship, something we have always wanted to do.

This is an exciting time for us at the studio as the development of Crysis comes to an end and we are only a few weeks from Gold Master.

We appreciate your patience and are looking forward to getting Crysis into your hands on November 16th.

Thanks

Cevat Yerli
CEO & Crytek

PC, Electronic Arts, Crytek, Crysis