by JW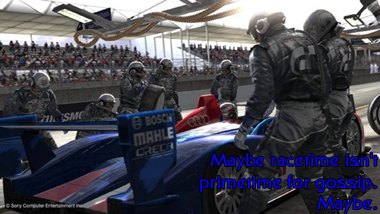 PS3 Fanboy (the REAL PS3 fanboys, as opposed to the SDF) has made a shocking, and some would argue hilarious, discovery: Gran Turismo 5 Prologue's Japanese price and release date.
Slated for a December 13th release in Japan, the GT5 demo will retail for, I kid you not, ¥4,980. For those of you who don't know exchange rates, that's roughly $43.10. If you Dl it off of the PlayStation Store, you'll only have to pay ¥4,500, or $38.95.
…I don't care who you are, if you pay damn near ¥5,000 ($45…ish?) for a damn DEMO, you're a fool. Yes, the demo will include many features that will make it into the final game, you're still better off waiting, and paying the $60 (do your own damn conversaion) for everything.

Sony, PlayStation 3, Gran Turismo 5, Prologue, demo