by JW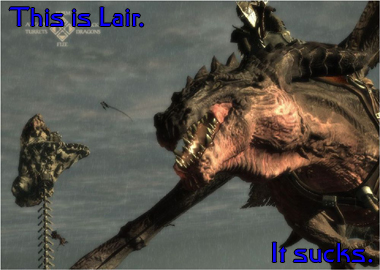 Apparently Japan didn't get the memo about Lair being what we in the industry call "the suck", as the Factor 5 turd has entered the Japanese Top Ten.
Coming in at #7, Media Create is reporting that Lair has sold 22,000 copies in its first week in the land of the rising sun. It was still nowhere near the top, however, as the Nintendo DS title Nishimura Kyotarou Suspense Detective Series: Deadly Intent sold some 61,000 copies.
For those of you who thought Halo 3's success was marking the beginning of a trend shift in Japan… well, you're an idiot. The only Xbox 360 game featured on the Top 30 list was Project Gotham Racing 4, which came in at number 25.
Seven of the top ten games sold in Japan last week are handheld titles, with six of them being for the Nintendo DS. The lone PSP title? Gundam Battle Chronicle on the PSP.

Nintendo, DS, Lair, PlayStation 3, Sony, Factor 5