by Staff Writer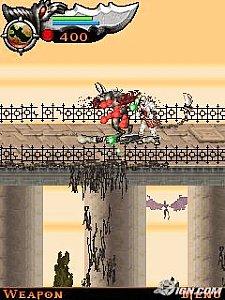 Fans of Kratos and his adventures will not need to wait till this fall to play the game, which is when Chains of Olympus hits the PSP and neither will they need a PS2. "God Of War: Betrayal" can now be downloaded on most Verizon cell phone's and mobile gamers can check out the original side scroller set after the events of the original "God of War" for a monthly fee of $3.99 (or alternatively, a one time $7.99 fee).
The storyline goes thus: Kratos is falsely accused of killing Argos, the mythical beast and is thus compelled to track down the real killer through 10 mayhem filled levels (stages, if you would). The game looks a bit different from the earlier versions due to the lack of a third dimension but many of the familiar characters such as Athena's Blades and Gorgon Eyes are present nonetheless.
For those that are still unclear about whether to purchase or not, feel free to stop by and take a look at our "God of War: Betrayal" preview for a sneak peek.

1P Start, Mobile Gamers, Gaming News