by Dave Parrack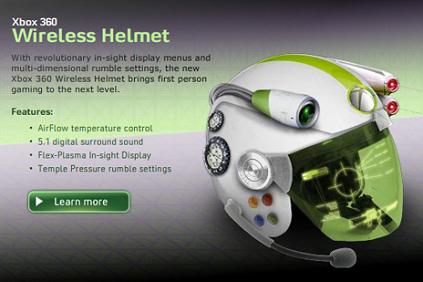 April Fools Day is always a torturous day for gamers, with a huge amount of fake or prank stories doing the rounds on the Internet. And this year has been no exception.
Here are some of the best from around the World Wide Web:
This YouTube video supposedly shows a mash-up between Assassins Creed and Metal Gear Solid 4. It's rubbish of course, but at least we get to see some new gameplay footage from MGS4!
Blizzard announced a new hero class for World of Warcraft. Called the Bard class, this hero wields a plastic guitar and rocks their way through the game. This is in addition to the game coming to consoles, although as its only available for the Atari 2600 to start with, it's not really that exciting news.
Microsoft proved they do have a sense of humour by announcing some new peripherals and products on the official Xbox website. From a wireless helmet that would make you look like a pilot from Star Wars (pictured above), to a vintage Xbox with nice varnished wood finish. All bullshit of course, but worth a giggle.
Not interested in any of those? Why not set your sights on the new version of Guitar Hero coming out soon, Guitar Hero: Fall Out Boy! Megatonik has the full set list for us all to ogle over. Aerosmith may have started the trend but they don't compare to Fall Out Boy and their reams of material.
These are the best I've found while surfing the tubes today, but there are plenty more out there. If you have seen any you need to share, especially if some people have fallen for them, let us know in the comments section.
Until next year!