by Paul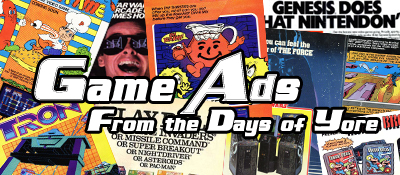 With the release of Indiana Jones and the Crystal Skull nearing, Indiana Jones mania is at its highest. Many fans of the series (me) are going crazy for anything Indiana Jones related. Therefore, for this Game Ads from the Days of Yore we take a look at a promotional ad that was made from the Indiana Jones Pinball game made way back in 1993.
Sit back and enjoy, it's a nearly ten minute video.
One of the great things about this game is that it came out after the original Indiana Jones trilogy was released, so it mixes elements from the those three Jones films into one game. The ad itself shows the game off well enough, but what's with all the damn clips from the movie? Yeah I get it already, the pinball game is based on Indiana Jones, the character from those movies I really like.
More than anything else though, this ad really makes me miss the days when you could go to your nearest arcade and see a new pinball game from practically any property from TV, movies, or comics. This was especially true in the 1990s. If David Hasselhoff's old show Baywatch could get it's own pinball machine back then, nothing was off limits. Indiana Jones was one of the few properties that was a must play machine if you managed to see it, unlike say the game based on Slash's solo career (of Guns N Roses Fame) Slash's Snake Pit or the Keanu Reeves bomb Johnny Mnemonic. Hey, they all couldn't be hits.