by PacoDG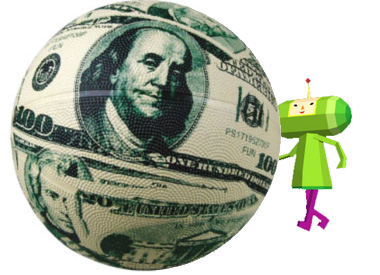 It seems something
I have ranted about in the past
has reared its ugly head again. If you may or may not recall, NFL 2K8 had a "downloadable feature" that was something actually included on the disc, a "Reel Maker" which I have been told is in the newer 2KSports games for free, however I have not been able to confirm this anywhere and have no desire to rent the games.
Either way, today I am not here to bash the 'still better than EA' 2KSports, but to move onto Namco Bandai and the wonderfully weird Beautiful Katamari. A game I was so close to buying before reading on Major Nelson the dlc that is being offered for the game no less than a week after its release, for shame.
The downloads run at 384kb each, meaning this is smelling very much like the 108kb dlc offered in some other games. The next part that is possibly worse than the fact that the stuff you are downloading might already be on the disc you bought, is as I stated before, it is coming in no less than a week after its release! Knowing Microsoft's certification process takes a while, this content had to have been set up for approval well before the game's release, just adding to the fact that it should have been accessible from the disc itself right off the bat.
To conclude all this nonsense, this travesty hasn't even been brought to America yet, it is only available in Japan/Asia for now, is the good ol' USA not good enough to get ripped off?! This is serious business though, it won't be long before this will hit us, if you have bought the game, do not purchase this content, if you haven't bought the game, stay the course.
[This is being covered at DESTRUCTOID and Xbox360Fanboy as well]
—


Namco Bandai, DLC, Xbox Live Marketplace, Beautiful Katamari