by Dave Parrack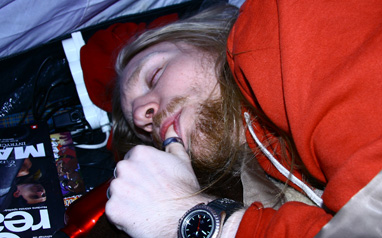 I've heard some daft camping out stories in the past but this one really does take the proverbial biscuit.
A group of hardcore gamers are camping outside a games retailer in Sweden for a month just to be the first in line for a copy of Grand Theft Auto 4 when it's released on 29th April.
Okay, so they won't just be getting a copy of the game, but also a whole load of GTA IV prizes and stuff to go with it, after the store ingeniously promised the first ten through the door on that day a bumper selection of freebies for their efforts, but still!
Hardware I can sort of see the point. Who wouldn't want to be first to proclaim that they have played on the latest Nintendo, Microsoft or Sony console? It's something you can brag about for years to come, at least until the next generation of machines comes along and someone else beats you to it.
The same is true of high tech hardware like the Apple iPhone, which when launched in the UK last year saw people queuing overnight in the rain to get themselves one.
But, campaign outside a shop for over two weeks just to get hold of Grand Theft Auto, and some little extra goodies is a bit retarded in my opinion. It's not like they'll be the first to play and finish it, as lucky journalists given free pre-release copies of the game have already beaten them to it.
Also, remember that Sweden is a cold country, which means these idiots are risking frostbite or worse just to be first in line. Man, they must be ill in the head. If they're not already, then they probably will be after this little incident.
And who are these people that they can take two weeks out of life to camp on a high street? They can't have jobs or anything, as surely they'd be fired after a few days. Or if they have, that means they've taken two weeks holiday just for Grand Theft Auto!
I know it looks like a great game, and will probably end up being by far the biggest selling release of 2008, but is it worth this? No, not at all.
[Source: Destructoid]