by Mazz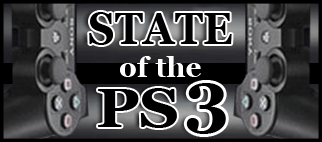 On top of the world. That's where Sony was. The Playstation 2 outsold all of its competitors by a substantial margin. It was the undisputed king of the last console generation. The positive momentum leading up to the launch of the Playstation 3 was almost unparalleled. Then everything just started going wrong.
Rumors of manufacturing difficulties kept Playstation 3s out of stores for the first few months. Then, once the supply was met, the demand for the system dwindled. Despite early showings of great success for it's European launch, the Playstation 3's sales figures plummeted in the weeks following. Due to their continual mistakes, Sony has lost game exclusives, advertising rights (as backlash to their mind-numbing "This is Living" set of commercials", and profits.
Throughout all of Sony's mistakes, the Playstation faithful have never quit. Fighting back on forums, defending Sony's mistakes, and keeping hope alive. They truly want their $600+ investment to be appreciated by the company they have put so much faith in. Those cries seem to be falling on deaf ears.
So much so, that the Playstation fan base has taken it upon themselves to fix Sony's mistakes. The "This is Living" set of commercials are seen as so terrible, the Playstation faithful must trust in their meager abilities to make them more appealing.

This is how sad the Playstation community has become. Somehow, I can't blame them.
The worst evidence of Sony's disregard for their customers is their lack of support. Since the launch of the PS3's online service, users have urged Sony to upgrade the experience. Sony's service only recently was updated to allow "background downloading", yet problems remain. Fans have taken it upon themselves to sign petitions, yearning for features that they were promised by Sony.
So what can Sony do? How can they appease their customers? The answer is quite simple. Listen to them.