by JW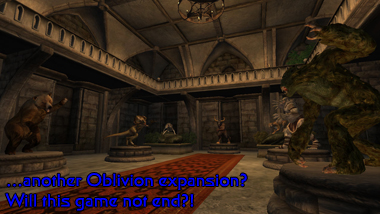 Bethesda has announced the final piece of downloadable content for The Elder Scrolls IV: Oblivion, entitled 'Fighter's Stronghold', which along with Vile Lair, Thieves Den and Wizard's Tower, comprise the four themed domiciles for Oblivion.
While it's a shame to finally see the Oblivion support come to an end, Bethesda is giving us a little going away treat by allowing we, the people, to download Fighter's Stronghold for FREE for the first week it's available.
From the Bethesda blog:
Fighter's Stronghold provides the last of four themed domiciles (along with Vile Lair, Thieves Den, and Wizard's Tower) for the adventurer on-the-go. You inherit the rights to Battlehorn Castle, located on a lovely stretch of the Colovian Highlands, west of Chorrol. Dining Hall, barracks, wine cellar, training room, and your own private Shrine of Julianos. Update your castle furnishings, perhaps even a Dwemer Forge for the aspiring Armorer? Hire a taxidermist to tastfully decorate your new abode with trophies from your adventuring.
Now, now, PS3 owners — you're not being left out in the cold. Also announced on Bethesda's blog is the impending arrival of The Shivering Isles expansion pack on the PlayStation 3. While they can't definitively say when, or whether it will be on disc or downloadable, they've promised that The Shivering Isles will be coming. Soon.
Finally, in addition to the Game of the Year version of Oblivion making its way to the PS3, we're reminded that the boxed version of The Elder Scrolls IV: The Shivering Isles will be making its way to the Xbox 360. So, all in all, a good week for Oblivion fans. It's just a shame that this is the last of the Oblivion content.
[Bethesda Blog]
[Fighter's Stronghold]

Bethesda, The Elder Scrolls, Oblivion, The Shivering Isles, Fighter's Stronghold, PC, Microsoft, Xbox 360, Sony, PlayStation 3