by JW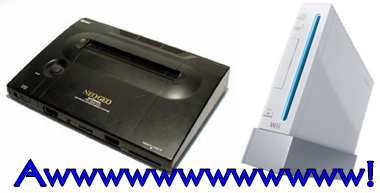 As reported by 1PStart, Nintendo has officially confirmed the addition of the Neo Geo to it's ever-growing Virtual Console library.
While no definitive date has been announced for the first Neo Geo titles, we do know that they will arrive sometime "soon", and will retail for 900 points.
Now, for a brief history lesson. The Neo Geo was a console developed and released by SNK. If you don't know who SNK is, they've released games like Ikari Warriors, Fatal Fury, King of Fighters, Metal Slug and one of my favorite arcade games EVER, Mutation Nation. But I digress.
Now, if you were wondering about the Neo Geo's success… wow. If you thought the Dreamcast failed, after selling ten million, then you'll probably think the Neo Geo was a lake bed filled with liquid suck. It sold only one million units. Of course, when you're trying to sell a console for $650, it's gonna have a hard time selling — especially when the games cust upwards of $200 and higher.
But SNK makes some wicked games, so this is a good deal for the big N. I can't wait to see what they bring over first.

Nintendo, Wii, SNK, Neo Geo, Virtual Console