by Dave Parrack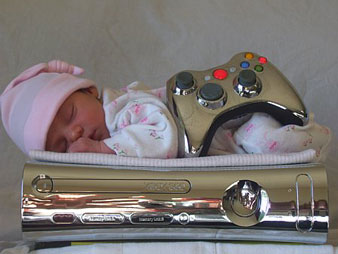 Well, not quite on its own, but it can at least be the catalyst for a new baby to make its way in to the world.
A couple have met over Xbox Live, fallen in love, married, and now had their first baby together.
I'm sure this kind of thing has happened in PC gaming before, and also virtual world games such as Second Life and World of Warcraft, but I've never heard about it happening in quite the same way as this one occurred.
Stacy and Mike Figueroa met while playing Tom Clancy's Rainbow Six: Lockdown over the Xbox Live network. Hatred rather than love for each other was the first emotion to surface though, with the pair starting off as online enemies, in different factions of the game.
After months of shooting each other, they ended up becoming team-mates, and then a little after that, they fell in love.
Stacy told Pocket Lint:
"Funny thing is, we hated each other at first, but somehow ended up falling in love",

"I was from Georgia and he was from the Bronx. On a leap of faith we met, and we have been together ever since. If it wasn't for Xbox LIVE, our paths would have never crossed."
The happy couple had Victoria Marie Figueroa, a baby daughter, on the 27th September, who owes her very existence to Microsoft, Xbox Live and Tom Clancy.
It seems that this isn't the first Xbox baby either, and Tom Clancy seems to be making a habit of getting people together.
The parents of Noah James Osmer Pitts, who was born in January 2005, met whilst playing Ghost Recon: Island Thunder. Does Clancy have weird fertility powers of persuasion or something?
It's at least nice to hear that in this time where video gaming seems to be being blamed for all the ills of society, it can directly be attributed to creating a baby. And what's more, the people involved were playing a game involving violence. But they're not sadistic killers prone to bouts of violence, just happy parents. A lesson for us all, and especially the interfering politicians.
[Photo Source: Xbox.com]